Paper Cutting at Dave the Printer
Paper cutting for a printing company is very often the final step many people think of when having flyers printed, booklets or even business cards printed but there can be far more to "paper cutting" than that. 
At Dave the Printer, part of our job is to figure out the most cost-effective way to produce your job. Example: (You need 50,000 8.5 x 11 flyers). We will most likely print those on parent-size sheets and then cut out 8 finished-size flyers per 1 parent-size sheet. Fewer impressions mean faster completion time and a lower cost to you!
Our programmable cutting machine gives your finished job clean, straight-cut edges by using hardened carbide blades to cut and trim large stacks of your printed documents in an instant. Once the cuts are programmed into the cutter we can repeat the exact cuts over and over with little to no variance. 
Our custom paper cutting is the perfect solution for:
Before your job hits the press or digital printing equipment
Often the paper we buy to be used for printing is not the size we need to print on. We all know about 8.5" x 11" or 11" x 17" papers but they come in much larger sheets as well. One of the largest sheet sizes is 28" x 40" and common sizes of parent size paper include 26" x 40", 23" x 35", 20" x  26" and 19" x 25". These parent size sheets need to be cut down to a printable size depending on the machine being used to produce that job.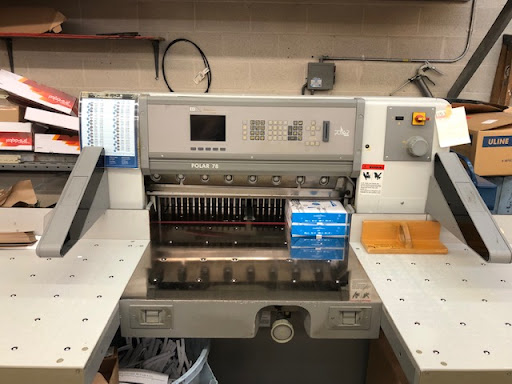 Common Parent Grades and Sizes:
Paper Grade                   Standard Sizes 
Book                              25" x 38"
Bond                            17.5" x 22.5"
Bristol                           23" x 35"
Cover                            26" x 40"
Index                            22.5" x 35"
Tag                                24″ x 36″
Writing                          23" x 35"
Learn More About Paper Cutting Options
Custom cutting fee's, in addition to the cost of the card stock are included in  your

Custom Quote

.

We can only make straight 90 degree cuts. Circles, ovals and other shapes can be done with

Die Cutting

.

Please allow an extra 1-2 days with orders requiring special cuts or large quantities.

Please

provide a valid phone number when requesting a quote

in case we have any questions concerning your job.

If you need further assistance with custom paper cutting, please

call us

and one of our friendly print specialists will help you place your order.
Finishing & Bindery services available from Dave
Does your printed piece fold in half or have special inserts that need to go along in an envelope? Our print experts can help you with scoring, folding, inserting and a host of other finishing and bindery options including paper cutting to help get your printing delivered with a great look and on time. 
Call us at 214-630-4017 , email us at service@davetheprinter.com or fill out our quote form today. At Dave the Printer, you will receive a high quality print job printed on an offset press or digitally printed and cut on our Polar 78 cutter. Delivery, pickup and shipping are available.
 As Dave's been saying for more than 45 years, he'll "bend over backwards" to make his customers happy. What are you waiting for? That great first printed impression is just a call or just click this link to get a custom quote