Laminating adds strength and durability to your prints or photographs. The most common printed item we laminate is Restaurant Menus. Laminating is also great for  trade show handouts, point of purchase displays and promotional items. A good laminate will Protect printed materials from tearing, smudging, dirt and stains and strengthen printed materials that will be handled repeatedly.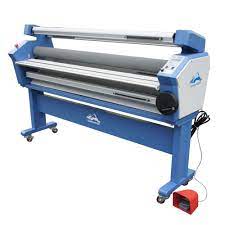 Wide Format Laminating:
Laminate up to 60" Wide. We can also mount your large format prints to foam core or gatorboard. We can laminate pre mounted board for extra protection or dry erase applicati
What size and kinds of laminating does Dave do?
We are able to laminate any paper size from a business card size of 2." x 3.5" up to 60" wide and any length.
Using high speed automated machinery we can run press sheet sizes 8.5" x 11" to 27" x 40".

Lamination can be single or double sided.

Trim can be flush or edge seal. Edge seal is usually ⅛" beyond the sheet edge.
Is laminating waterproof?
Lamination is water-resistant; not water-proof.  There are films available with higher resistance to water and will last longer in high humidity or wet conditions which would work great for menus. Please ask our CSRs if you have concerns about your printed pieces getting wet.
Thermal Laminating Options:
Clear polyester – high-gloss, durable. (most popular)
OPP – high-gloss, write-on/wipe-off surface for use with dry erase markers. Great for one-sided applications.
Matte-finish polyester – low-gloss, durable and great for readability.
Textured laminates ie: Scuff-free, Soft Touch, Velvet, and more.
Metallic laminates are printable, gluable, and stampable.
Scratch Resistant Matte.
Floor Graphic material.
Custom laminates for just about every project.
Laminating Thicknesses Available:
1.2ml, 1.5mil, 1.7mil, 3mil, 5mil, 10mil. (specialty orders for 4:6 Mapped)
Edge Options:
Flush Cut, Edge Sealed

Round Corners

Square Corners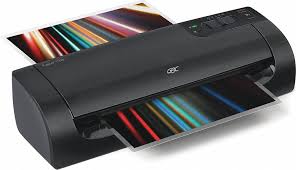 Thermal Laminating Options:
Having sealed edges on thin laminates like 1.7 mil is not recommended. When using thick laminates such as 10 mil we recommend having the corners rounded to protect them from bending and with square corners the thick laminates can be quite sharp causing scratches and even punctures to the skin.
Digital Printing/Color Copy Laminating 
Digital Printing uses fuser oils to put the images and text to paper and the transfer of toners in digital printing inhibits adhesion with Thermal Film Laminating.  Special laminating films are available that have been designed for the Digital Print market.  Some Digital prints with heavy toner coverage may not be able to be laminated, even with the most aggressive adhesives. Be sure that Dave will use the correct laminate for your offset or digital printed pieces to get the best results. If We didn't print an item that you want laminated, be sure to specify what type of printing was used so we get the laminating right!
What kind of papers are best for laminating?
Film laminate will pick-up the texture of any stock used and may cause a silvering effect where the adhesive on the laminate has failed to fill in the pores of the stock.  Smoother paper stocks will have a better look after laminating than rough paper stocks.  The thicker the laminate, the less apparent this effect will have as the thicker laminates have more adhesive.  
Finishing & Bindery of your laminated prints:
Laminated items can be scored to fold easier than un-scored. We can also Plasticoil (spiral) bind multiple laminated sheets.
Call us at 214-630-4017 , email us at service@davetheprinter.com or fill out our quote form today. At Dave the Printer, you will receive high quality printing done offset or digitally on time. Delivery, pickup and shipping are available.
 As Dave's been saying for more than 50 years, he'll "bend over backwards" to make his customers happy. What are you waiting for? That great first printed impression is just a call or click away.