Door Hangers
Advertising That's In Your Customers' Hands!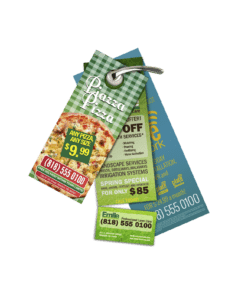 For over 45 years we have been offering printing services for door hangers in the Dallas/Ft. Worth area of Texas.
Door hangers are a unique way to catch a potential prospect's attention or remind customers that you are out there by being in a place where they aren't expecting it, attached to their door! Because door hangers must be removed from the doorknob, they are likely to be read and make an impact that lasts longer than a simple glance. Door Hanger printing will help in getting exposure in your local area. Promoting in your area is a great idea since it's where you want to target the most. Look at how many businesses are around you that you may not be working with and you will see the potential to grow your business!
For Door Hanger printing prices and details, Contact us at 214-630-4017 or by email at: service@davetheprinter.com