Pocket Folders / Presentation Folder Printing
Pocket folders are the go-to choice when you want to present your company info or documents in a professional manner. From the moment you give out your presentation folder it will tell a story about who you are and the company you represent.
Your documents and presentation materials will be easily accessible, organized, secure and ready to go. Our pocket folders are available in a standard format 9 x 12 format with 2 pockets, a single pocket or completely CUSTOM made pocket folders are an option as well with Dave. We can also help you prepare and print any other materials you'd like to include in your company presentation folders.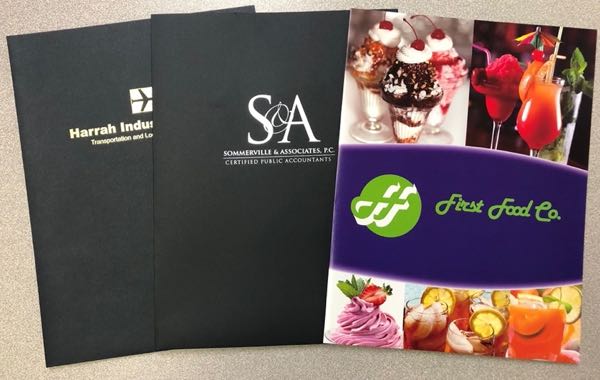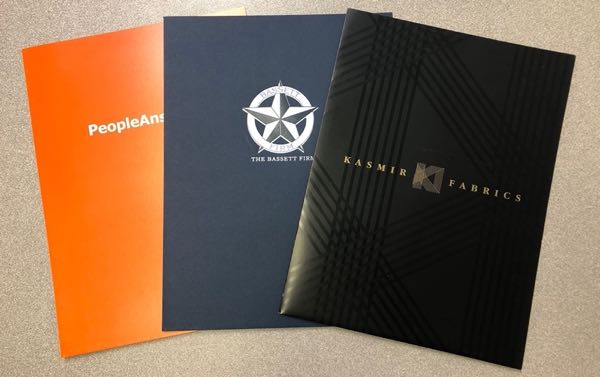 What materials should be included in my Presentation Folder?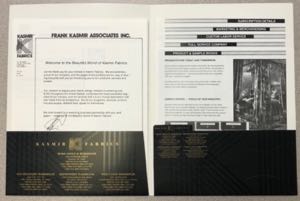 Business Card slits for either horizontal or vertical business cards are a must! Having 2 pockets in your folder is the most common way to go and we can give you two 4" (inch) tall pockets so your materials in them will stand up. Put your best foot forward with the right image and be prepared for your next important meeting with a set of quality presentation materials. Dave the Printer can print all the materials that you would want to include in your pocket folder so that your client or prospect feels it has been designed specifically for them. We offer brochure and flyer printing, business card printing, and much more. Add high-end finishing touches to your folder like foil stamping and embossing to give your custom folders and presentation design a professional look and feel.
What you need to know about Pocket Folder printing from Dave the Printer:
What are normal Pocket Folder sizes and configurations? Standard presentation folders are 9" wide by 12" tall. We also make a 6" wide by 9" tall and a 9"wide by 15.5" tall as part of our standard sizes. We can print any of these sizes in full color and with one or two pockets. 
What about Custom Pocket Folders?
Dave has you covered. There are lots of options for having a custom pocket folder including:
Expanded spine or pockets so you can fit more info into the folders like booklets, documents, etc.
Varieties of available cover weight paper stocks.
Print in full color or spot colors on one or two sides.
Pocket printing (inside and out) is available.
Foil stamping of your folders.
Embossing your logo or other designs.
Finishing options like Aqueous Coating, UV Coating, matte finish and even silk laminating are available.
Business card slits in one or both pockets.
CD slits available.

How long does it take to get my Pocket Folder printed?
The standard turn time may only be 5 to 7 working days but can take longer depending on the features you opt for. Some very customized pocket folders can take 2+ weeks or more so be sure to get your order started asap. These are estimates based on our experience and may vary depending on the quantity ordered and the finishing options you choose.
What do Pocket Folders cost?
The best answer as to how much pocket folders cost is to send us a quote request or give us a call at 214-630-4017. We will receive all the specs for your folder and put together a written estimate.
We prefer a high-resolution PDF file at the size of the pocket folder you want to be printed. We will be happy to give you a template to help you set up your print file and have a Preparing Files page on our website that should help answer your questions. If your file format is a jpg or png it is best to have any images at 300 dpi and type should be at 2400 dpi at the size of the sheet being printed. A 300 dpi image with type that is only 4"x6" will have a very low DPI when enlarged to 18 x 12 (open size of a 9×12 pocket folder). The result will be a very jagged and pixelated printed piece. As part of our service, we preflight (check) all customer files to make sure you will be happy with what we print!
Paper types are available and how do I choose what's best for my Presentation Folder?
We print presentation folders on a number of cover weight stocks including standard weights of 100# gloss cover, 14-point uncoated, 14 or 16-point matte or glossy finish. Custom order stocks are available including linen and laid finishes as well as others. Just ask or tell us what you are looking for and we can put together a custom quote.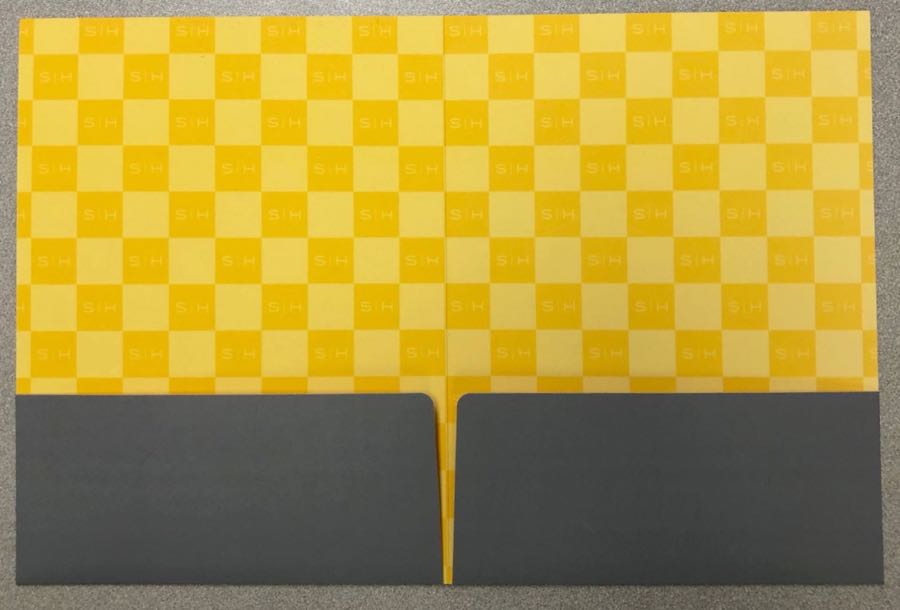 Can Dave print on presentation folders that we supply?
Unfortunately, we can't. Printing presses require a flat sheet for printing. Pre-made folders will not go through our equipment. We print pocket folders on parent size sheets, usually 23 x 35 or larger and then die cut and convert the sheets into the folder you receive.
Dave the Printer is a Local Dallas pocket folder printing company that can handle any and all of your printing needs. Whether you need short-run custom folders of 250 or large printing runs of 10,000 or more we offer exceptional color print quality, on time delivery, consulting options with a fast turnaround and a LIVE dedicated person to help you along the way!
You can send Dave a print-ready file online, or via email and we will print the Presentation folders on the paper you choose, or you can also come in for a consultation, look at some samples and speak with our staff to create the perfect folder to showcase your message.

As a family-owned business, Dave the Printer will print your pocket folder projects just the way you envisioned, maybe even better! We will not leave you waiting because we understand that time is money. Our team at Dave's would be happy to meet you in person at our office in the Dallas Design District, or you can simply email us for a quote or send print-ready files to service@davetheprinter.com. When your custom folder project is ready, it can be delivered locally, shipped local or worldwide, or picked up at our convenient Dallas location. When you need a "printer near me" – Remember Dave the Printer!