Brochure Printing Service
Professional Brochure Printing Completed by a Local, Family-Owned, Printing Service Company in Dallas.
When it comes to first impressions, you want them to be IMPRESSIVE. And there's no better way to make a great first impression than with a quality brochure. At Dave the Printer, Custom Brochure printing is one of our specialties.
Our complete brochure printing services, including file setup guidance, will ensure an impressive look and feel.
Whether your brochure is to introduce new products, give information about your company or services, answer questions or educate, our printing experts can provide what you need to show off your company. Brochures are a low-cost way to beautifully get your message out to customers. In fact, research shows that brochures are still a number one way to get customers' attention. According to Chron, brochures and pamphlets are every bit as crucial as ever for a comprehensive marketing plan.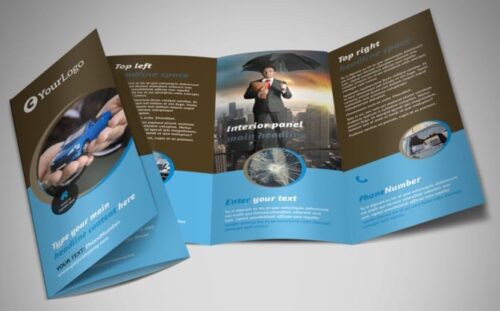 What Types of Brochures do We Make at Dave the Printer?
We specialize in full-color professional brochure printing in the Dallas Design District using advanced digital printing presses or offset printing. Our Team delivers quick turnaround times and exceptional results. We provide a variety of paper qualities and sizes, and we will work with you to create the brochure best suited for your business.
If you're not sure about your designs or images, our staff and designers can help you complete your design. We can even help with product description writing. 
If you need to order several hundred brochures in a short time frame, or you need thousands you can count on us. Our short-run digital printing capabilities allow you to receive superior quality quickly and competitively. Our offset presses Allow us to print thousands in full color including an aqueous coating.
What Should be Included in My Brochure?
A well-designed brochure should be easy to read, follow, as well as have a consistent and bold design throughout. That way, your customers will know what to expect and will easily be able to find relevant information about what you have to offer once they see the first couple of panels. Depending on your product array, creating a brochure can be quite the undertaking, but our experts are ready to help you with every step of the way throughout the process. We have seen businesses use our brochure printing services to build brand awareness, introduce new products, and show their products/services in use. Here are a few ideas of what to include in your business brochure: 
 Introduce your brand and express your company's values/messaging and contact information. 
 Use bright colors, detailed descriptions/sizes, and include prices. 
Other additions you can include are delivery expectations for your products as well as production times. 
 Another consideration is to create a brochure that is engaging to your customers. Create a front panel design that causes them to pause and want to open the brochure to see what's inside. Consider using imprinting techniques that stand out, such as aqueous coating, satin finish coating, or even a silk laminate!
Call or fill out a quote form today from our website. At Dave the Printer, you will receive high quality, affordable prices and on-time delivery—every time. As Dave's been saying for more than 40 years, he'll "bend over backward" to make his customers happy. You are guaranteed great customer service.
What are you waiting for? That great first impression is just a call or click away.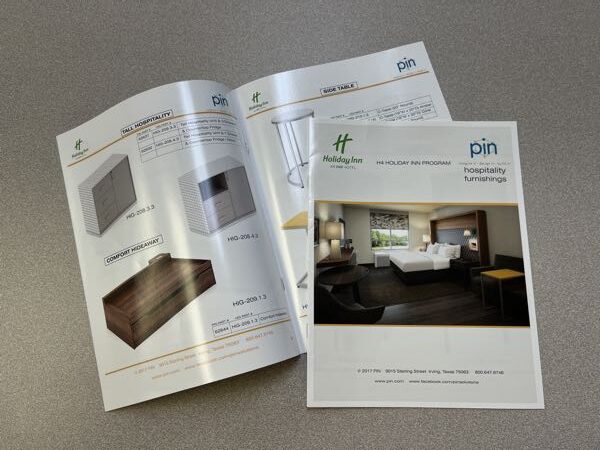 After Your Brochure is Printed:
Once your Brochure printing is complete, the project then proceeds to the bindery department. In the bindery department, we will trim them to the final size, then fold them (if necessary). Dave the Printer currently offers Letter folding, french folds, simply folding in half or even roll folds. We  can trim, fold, and also offer mailing services including applying labels or addressing, stuffing, tabbing and Post Office drop off. 
Every business is unique and Dave the Printer has options to suit your specific circumstances. No matter the information you're trying to communicate to customers or prospects, we'll help you make the best use of the space and to create an appealing design that your customers will love and easily understand.
What Makes Dave so Unique?
As a family-owned business, Dave the Printer has been bending over backward for more than 45 years to make sure your brochure printing projects are just the way you envisioned. We will not leave you waiting, we understand that time is money. Our team at Dave's would be happy to meet you in person at our office in the Dallas Design District, or you can simply email Print-ready files to service@davetheprinter.com. When your custom brochure printing project is completed, it can be delivered locally, shipped worldwide, or picked up at our convenient Dallas location. When you need "brochure printing near me" …think of Dave the Printer.
Call Us Today!
If you know what you want, you can bring us your own files which we'll print in color or black and white. But if you need help, our expert graphic design team will create a brochure that meets all your needs. You decide on the size and weight paper and whether you want tri-fold, half-fold or Z-fold. All these brochures will prove to be a valuable marketing tool for you and your company.