Custom Form Printing Services
Custom Form printing in Dallas is easy at Dave the Printer!
 Custom form printing and design are available for both single-sheet forms and pads as well as carbonless forms. Let's upgrade your business's image with custom form design and printing!
Single sheet forms are just that, sheets of forms printed in black ink on white paper or color ink on either white paper or colored paper.  Single and Carbonless forms have many uses including:
Invoices for laser printers

Route sheets

Medical forms

Purchase order forms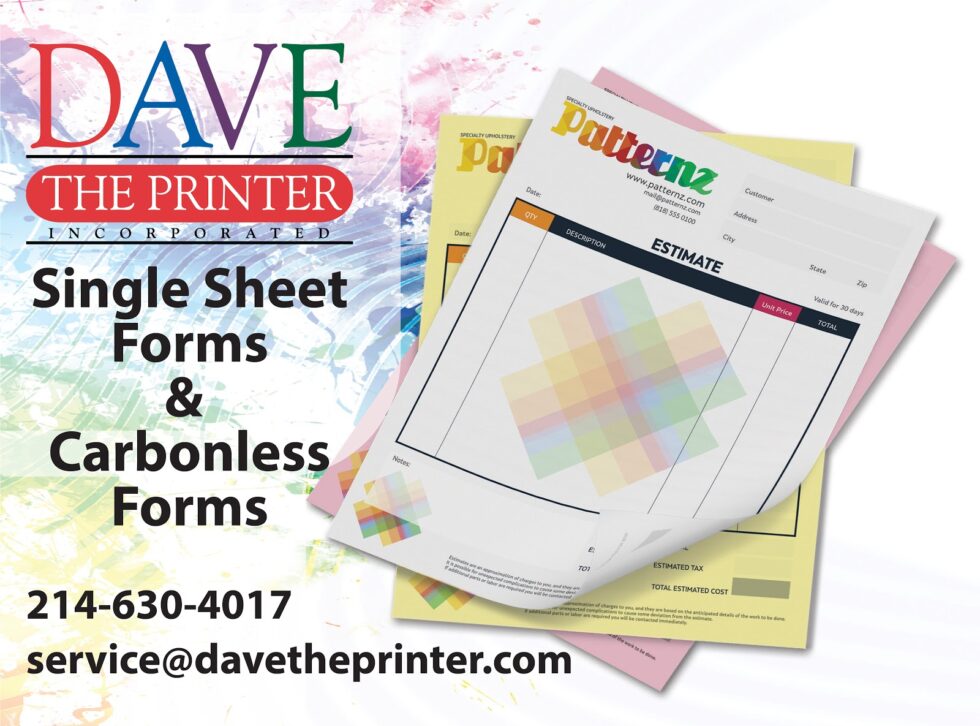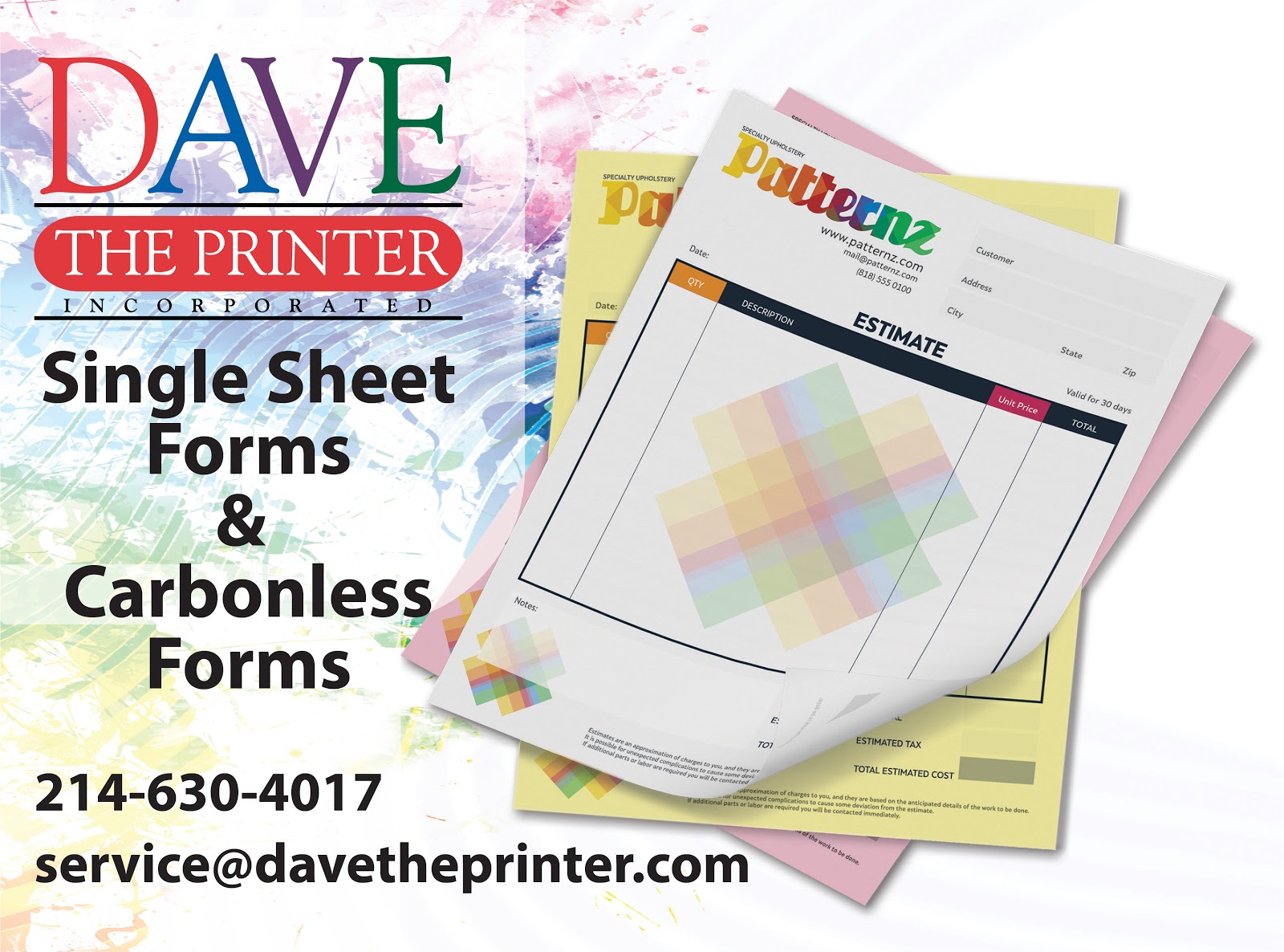 Carbonless forms (NCR forms) are multi-page forms that transfer through to each sheet without the old fashion carbon paper. NCR Forms are the perfect way to keep everyone organized.  Standard Carbonless Forms come in  2 parts (white and canary), 3 parts (white, canary and pink), and 4 parts (white, canary, pink, and gold). The 2, 3, or 4 part tear-off sheets are bound together at the top using a special glue.

Create your own custom forms or Dave's graphics team will be happy to create them for you.  We can add your logo to your form and there is a good chance that whatever industry you're in, we have designed a form that would work for you with a little customization to make it yours!
Sizes and Custom Forms
We offer standard sizes of quarter page 4.25" x 5.5", half-page 5.5"x 8.5", and full-page 8.5"x 11". Custom form printing sizes are available if that is what you need. 
If you are looking for different color sheets for each part or the same color for all the parts, we can make a custom carbonless form that would meet your needs. Another custom feature would be to have wording that changes from sheet to sheet.
Example: Red print at the bottom of the front page that says ORIGINAL, the second sheet might say CUSTOMER and the third sheet might say ACCOUNTING. 
Continuous Forms (tractor feed forms) with pinholes on the sides to run through your Dot Matrix Printers are available. The forms can have numbering and variable copy on each sheet as well. This type of form is available in up to 4 parts.
Finishing & Bindery services available
Custom form printing is usually completed in loose sets but we can bundle your forms into books with wrap-around covers if needed.  Form books come with a perforation at the top of each sheet so they can be easily removed.
 Variable data or Crash numbering is also available to keep your records in order.
Call us at 214-630-4017, email us at service@davetheprinter.com or fill out our quote form today. At Dave the Printer, you will receive high-quality custom form printing and on-time delivery. As Dave's been saying for more than 45 years, he'll "bend over backward" to make his customers happy. What are you waiting for? That great first printed impression is just a call or click away.