Envelope Addressing Services
Dave the Printer offers custom envelope addressing services for any purpose! Imagine the time you'll save and how impressed your event guests will be with polished, professionally addressed envelopes and invitations.
Custom Envelope Addressing By Dave
Dave the Printer can address envelopes with both

digital printing

services as well as with traditional

offset printing

. Additionally, our envelope addressing services can be done digitally from your excel spreadsheet. 
The best envelope addressing service has fast turn times, high-quality print services that today's modern digital printing equipment can produce. Quality and speed make digital printing a great option for producing many small run envelope printing jobs. Traditional offset printing is the way to go for more than 1000 one or two color envelope orders.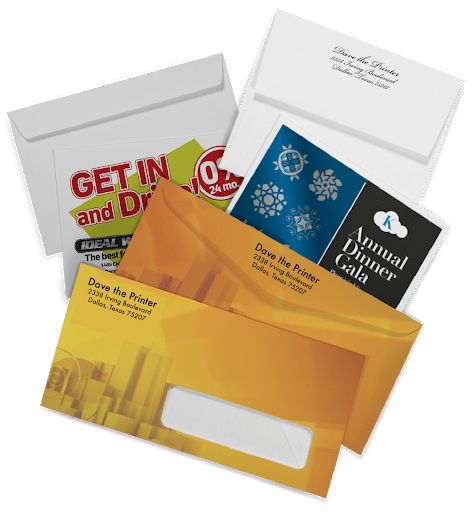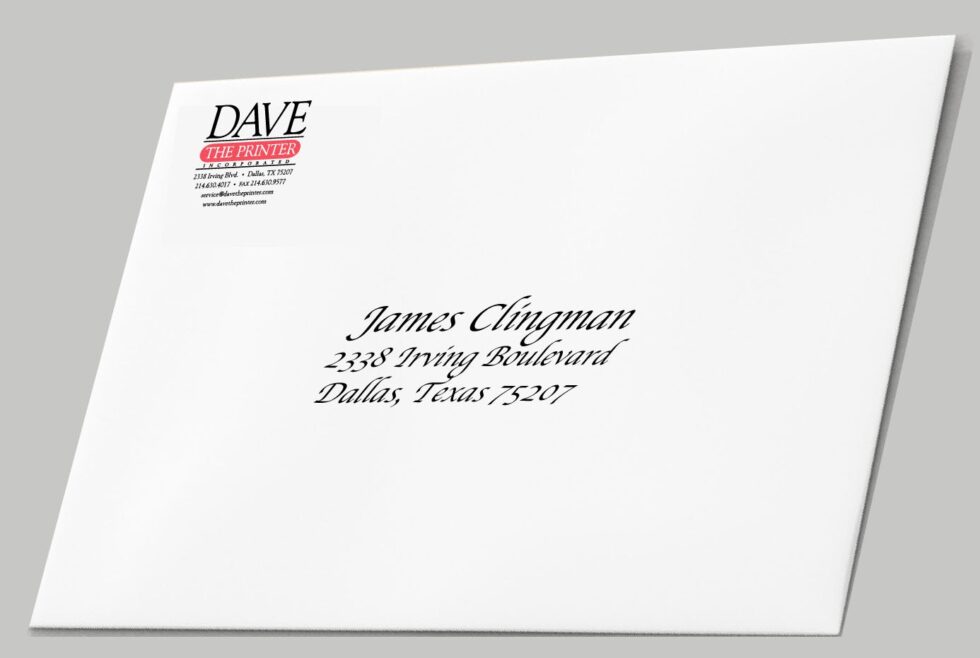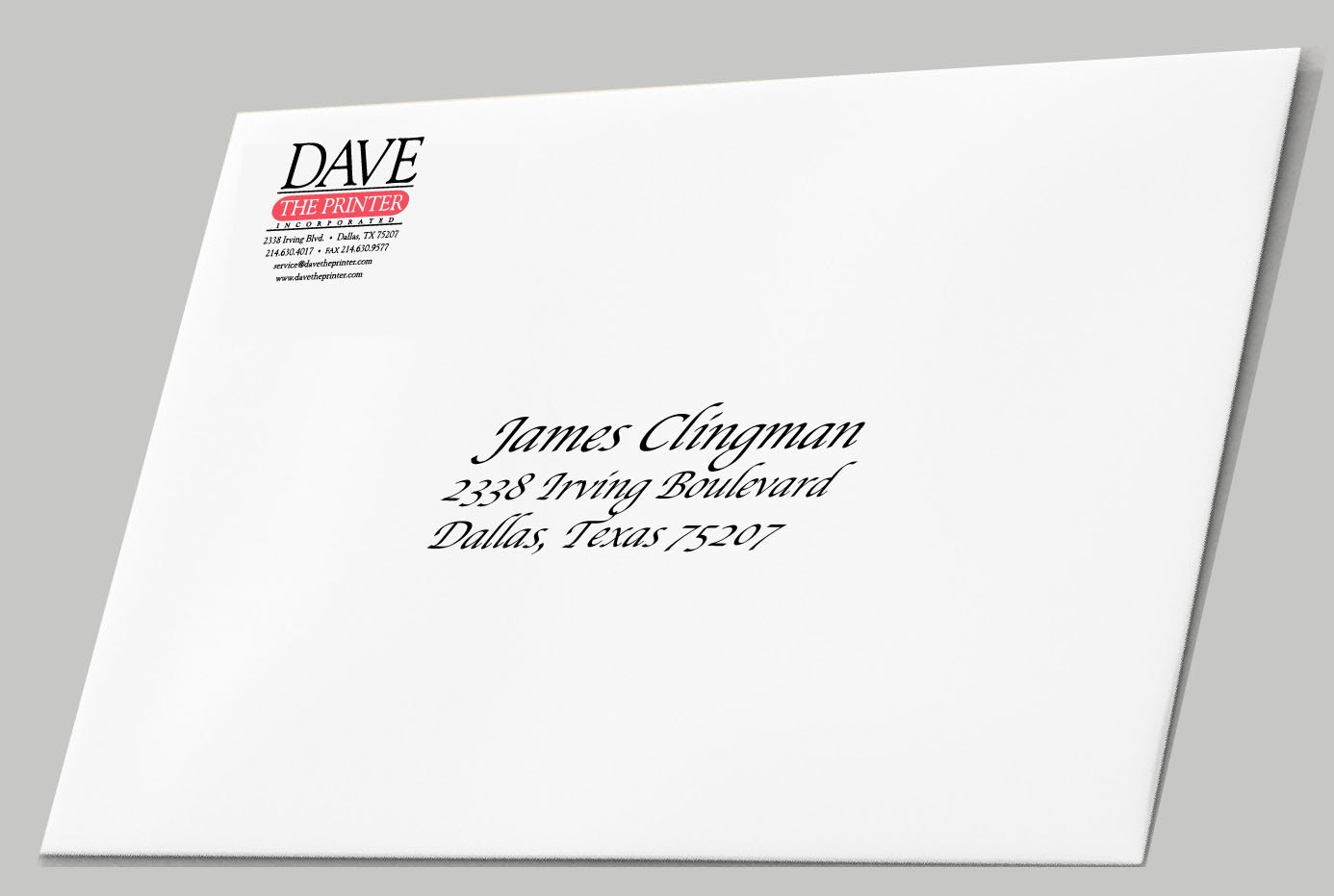 Dave is not only able to address your envelopes, but can also handle the application of postage, and dropping at the Post Office.  One of the best parts of Dave's printing services is that we can accommodate small runs of 250, medium orders of 1000 to 2500, and large orders for mass-mailing of 250,000 or more.
Reach out to us about your envelope addressing needs by clicking "Get your Dave Quote" or by sending us an email at service@davetheprinter.com
When setting up and naming your Excel file, do not add any commas, periods (other than the one specifying the type (.xls) as this will prevent your file from loading correctly) and do not use special characters.

Choose the font and color you'd like the addresses to appear in.

Choose a point size for the type to be used.

Upload your guest list easily in an excel (.xls) or comma-delimited file (.csv).

Preview and proof the envelope's personalization before approving your proofs.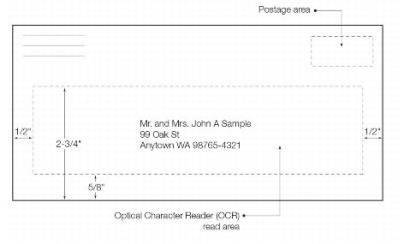 Outer Envelope and Inner or Response Envelope Addressing 
Most formal invitation sets have at least two envelopes to address, sometimes three? That's a lot of envelope addressing, but we can help! We do the addressing for you on some items but additional addressing services are available for an additional cost. Here's how it works: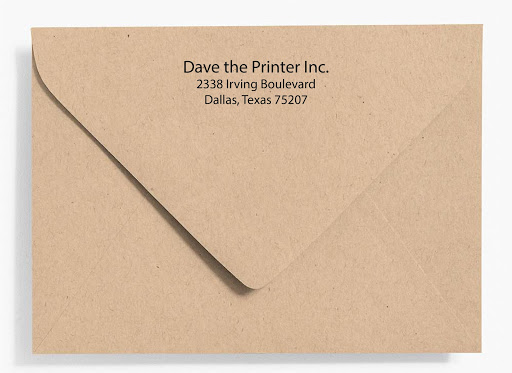 Outside (Main Mailing Envelope)
The outer mailing envelopes may be printed with your return address on the back flap or in the upper left corner of the front. If printing in the upper front left corner we can print that at the same time as we do the addressing so there will be cost savings over printing on both sides of the envelope.
Inner Envelopes
The inner envelopes may be addressed with the names of your guests. Or if the inner envelope is for your guest to mail back to you with a response they can be printed much like the Outside envelope on both sides or just on the front.
 Envelope addressing services may not be available on certain envelopes so please feel free to contact us at 214-630-4017 or email: service@davetheprinter.com.
Envelopes Available From Dave:
Regular #10 envelopes

#10 window envelopes

Announcement envelopes

Booklet envelopes

Catalog envelopes
Invitation envelopes

Reply envelopes

Bulk pricing on large runs

# 9 Return envelopes

#9 Window envelopes
No matter how big or small the job may be, Dave can handle it! From Invitation Envelopes to commercial envelope orders, your personal and commercial envelope printing requirements can easily be fulfilled in our convenient, Design District location near Downtown Dallas.
Short Run orders are usually 2-4 business days turnaround but some can be completed the sooner.
Dave's Envelope Addressing Services Include:
Printing in a variety of custom sizes to fit your preferences.

Print your materials with a quick turnaround time.

Provide mailing services including addressing and stuffing.

Print in single color or in CMYK full color. Envelope addressing is done in black ink or CMYK, no spot or pantone colors are available.

Help you choose from a large selection of envelope types.

Set up your envelope artwork so you don't have to worry about it.

Provide flexibility in run sizes as well as discounts for larger runs.
What makes Dave so unique?
As a family owned business, Dave the Printer has been bending over backwards for over 40 years to make sure the best envelope printing projects are just the way you envisioned. We will not leave you waiting, we understand that time is money. Our team at Dave's would be happy to meet you in person at our office in the Design District, or you can simply email us Print-ready files to service@davetheprinter.com. When your envelope address printing project is ready, we can drop them at the Post Office for mailing, they can be delivered locally, shipped worldwide, or picked up at our convenient Dallas location. When you need "Envelope address printing services near me" …think of Dave the Printer.