Newsletter Printing Services
From Direct mail newsletters and newsletter design to newsletter printing and mailing, Dave the Printer has been helping customers with newsletters as part of the printing services we offer for over 45 years. Combining our experience with our technical expertise means your job is always in safe hands and will look great! 
What you need to know about Newsletter printing from Dave the Printer.
What are normal Newsletter printing sizes?
Your newsletter can be a single 8.5 x 11 sheet printed on one or two sides, an 11 x 17 printed on two sides and then folded in half to make a 4 pager or a multi-page booklet. It's really up to you and the amount of information you are trying to relay. Custom sizes are available, Just ask us!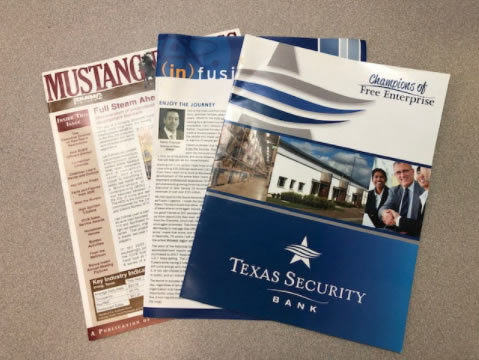 How long does it take to get my newsletter printed?
For small quantities of an 8.5 x 11 the turn time may only be a day or two. On larger sizes like an 11 x 17 the turn time may be 3 days including folding in half. Booklet type newsletters can usually be done within five working days.
All these estimates on times are based on quantities and finishings. Longer runs or jobs that include bindery just take longer!.
What does Newsletter printing cost?
The best answer for this question is to send us a quote request or give us a call at 214-630-4017. We will get all the specs for your newsletter and put together a written estimate.
What is the best file type or image size/resolution?
We prefer a high resolution PDF file at the size of the sheet you want printed. If your file format is a jpg or png it is best to have the image at 300 dpi at the size of the sheet being printed. A 300 dpi image that is only 4"x6" will have a very low DPI when enlarged to 8.5 x 11 or 11 x 17. The result will be a very jagged and pixelated printed piece. We preflight (check) all customer files to make sure you will be happy with what we print!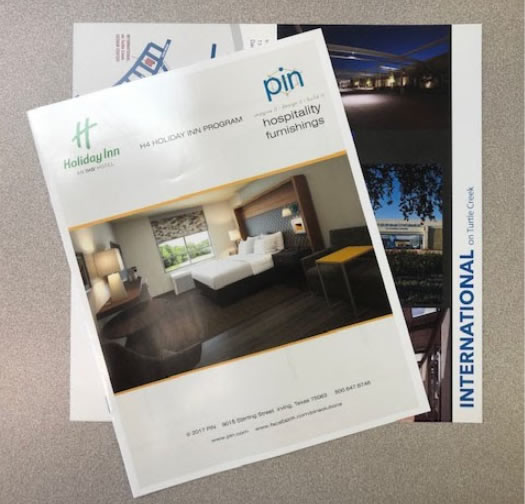 Paper types and how do I choose what's best for my newsletter?
This question all comes down to what you are intending to do with the newsletter. Our most popular newsletter paper is a 100lb gloss text which will look great when printed in color. Our next most popular request is for a gloss cover followed by a 70# text weight.
Any of these options will look good and there are other options to look at so feel free to come in and browse our samples.
What does Newsletter printing cost?
The best answer for this question is to send us a quote request or give us a call at 214-630-4017. We will get all the specs for your newsletter and put together a written estimate.
Some common uses for Newsletters are:
Business newsletters

School newsletters

Club newsletters

Church bulletin/newsletter

Neighborhood group newsletters

Inner-company newsletters

Consumer newsletters
Dave the Printer is a Local Dallas Newsletter printing company that can handle any and all of your printing needs. Whether you need short run custom newsletter printing or 10,000 corporate newsletters, we offer exceptional color print quality, delivery or pick up options with a fast turnaround and a Live person to help you along the way!
You can send Dave a print-ready file online, or via email and we will print the posters on the paper you choose, or you can also come in for a consultation and speak with our staff to create the perfect poster to showcase your message or remember an event.
Dave's services include:
Printing in a variety of standard and custom sizes to fit your preferences.

Print your materials with a quick turnaround time.

Provide shipping options if needed.

Mailing services.

Print in full color from your file or one we create.

Help you choose the right weight, style, and thickness of paper.

Set up the artwork in the correct way to get optimum print quality so you don't have to worry about it.

Provide flexibility in run sizes as well as discounts for larger runs.
What makes Dave so unique?
---
As a family owned business, Dave the Printer has been bending over backwards for over 45 years to make sure the best newsletter printing projects are just the way you envisioned. We will not leave you waiting, we understand that time is money. Our team at Dave's would be happy to meet you in person at our office in the Dallas Design District, or you can simply email us Print-ready files to service@davetheprinter.com. When your custom newsletter printing project is ready, it can be mailed, delivered locally, shipped worldwide, or picked up at our convenient Dallas location. When you need a "printer near me" Remember Dave the Printer.
Contact us today to get a quote for your Program Printing.